Brockwell United Football Club (BUFC) is excited to be launching their new kit to mark the team's fifth anniversary. It's a banger.
Images by Lucien Phoenix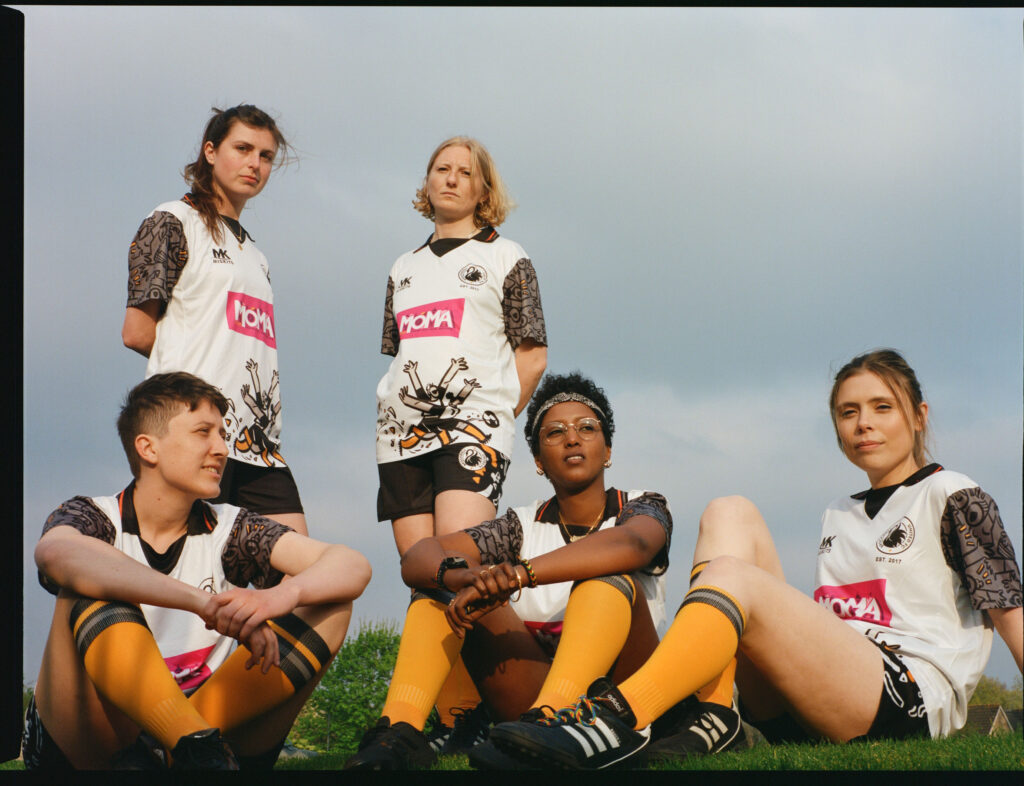 In 2017, Ximene bet her husband Andrew that if a she could form a team in two weeks, Andrew would coach it. And so, Brockwell Park United was born. The Swans – nicknamed after Brockwell Park's famous resident nesting birds – are a club for women and non-binary players founded in Brixton.
To mark their fifth anniversary, The Swans have released this incredible kit. Their mission is to empower women and non-binary players by inspiring a love of football – especially in beginners or returners to the sport who were either bullied out of the game at a young age or forced to stop due to the lack of opportunities and facilities. The Swans aspires to be the friendliest club in London and has implemented a 'Removing Barriers to Entry' commitment, to encourage more women and non-binary people to get into the sport. BUFC is truly focused on the game, not the competition – never running trials or inductions based on ability – as the club believes anyone can be, and has the right to be, a football player.

The new kit is exclusively sponsored by MOMA Foods and pays homage to the classic football shirts of the 90s with the collar and geometric shapes in the shorts. The running players are carefree and liberated, something which the team want all their players to feel when playing football. Brockwell park's swan and the team's motif, translates into the new kit with the colours white, grey and orange.

Brockwell United's Chair, Ellie Levitt (she/her) adds: "For us, football is about community and providing a safe space, something which women and non-binary people don't always experience with football. The new kit is hugely important to the club and represents that community spirit and empowerment as well as our growth – first starting out as a small group of friends to celebrating our fifth birthday and being one of the biggest South East London grassroots football clubs, with 80 players.

The kit launch also celebrates all things South East London, from our sponsor through to the launch venue – we take pride in supporting our local businesses and community and couldn't think of anywhere else more fitting to take photos of the new kit than at the iconic Champion Hill, the home of Dulwich Hamlet FC. As we see interest in women's football at the national and local level continue to grow, we hope moments like the Women's Euros tournament will inspire the next generation of women and non-binary people to see this as a sport for them – we will be waiting with open arms."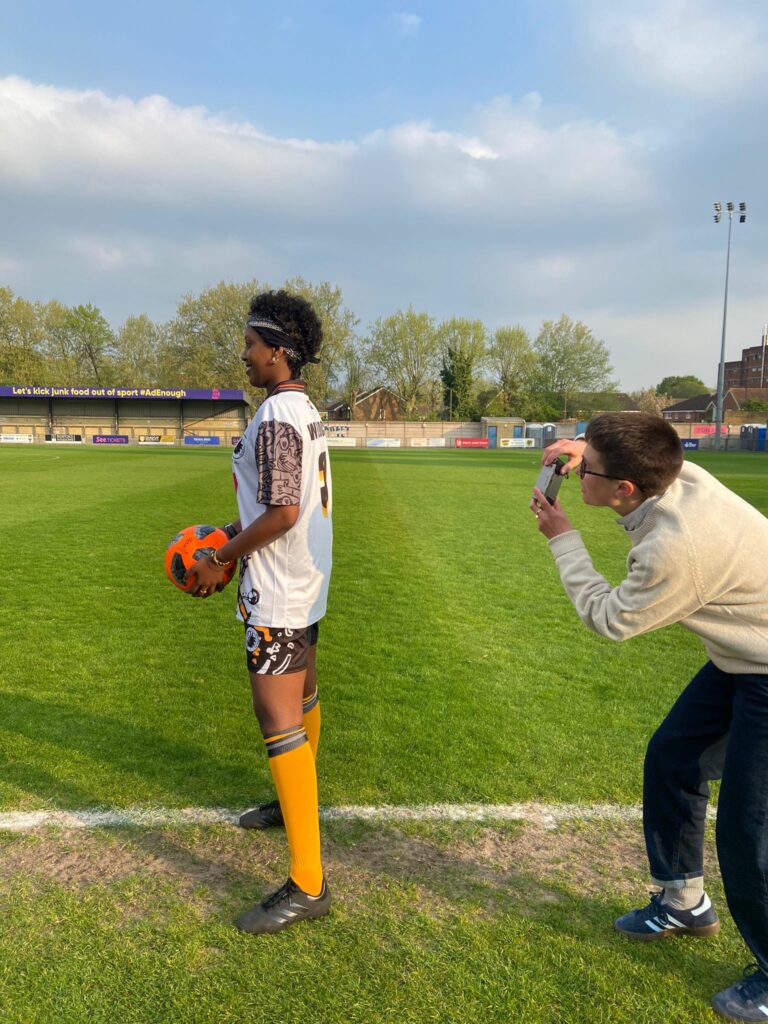 "The Swan's focus on participation in football for women and nonbinary people made me rediscover the sport and drove me to create images of movement, positivity and togetherness. With minimal use of bold lines and colours, we wanted to capture the joy within the act of playing football. The crowds on the sleeve represent the celebration of grassroots football and the supportive community and fans which comes with it."
Kit sponsor, MOMA Foods, launched 15 years ago at a breakfast stall in Waterloo East station. The company has gone from feeding hungry commuters to selling their award-winning oat drinks in Waitrose. Katherine Lambert (she/her), MOMA's Social Media and Partnerships Manager adds: "As a business with our roots firmly in South East London, we're delighted to announce our sponsorship of Brockwell United, and really excited to see the new kits in action. Brockwell United's inclusive mission to get women and those from the LGBTQ+ community playing football at all levels is something we are really proud to be supporting, and we hope to pick up some footballing skills ourselves along the way!" The team celebrated the launch of the new kit and their fifth birthday at Champion Hill Stadium, Dulwich Hamlet FC's home ground, on Saturday 23rd April. The launch event was supported by the Dulwich branch of Yard Sale Pizza: "We're buzzing to be supporting Brockwell United – Yard Sale Pizza are all about the local community, and what's more local than the local football team! We're big fans of their mission to grow a team for women and non-binary players that's all about the game, rather than the competition and it's a pleasure to be a part of it!"
Follow the team, on Instagram and Twitter.