To take a boat from Penzance is not to leave Britain. To the west of mainland England is a small cluster of islands — five of them populated. They form the Isles of Scilly. And this remote archipelago, home to 2,000 people, has a special place in the football history books. The Isles of Scilly Football League is the world's smallest league. Every game is a cup final. No, seriously…
By Dom Smith. Images from World's Smallest Football League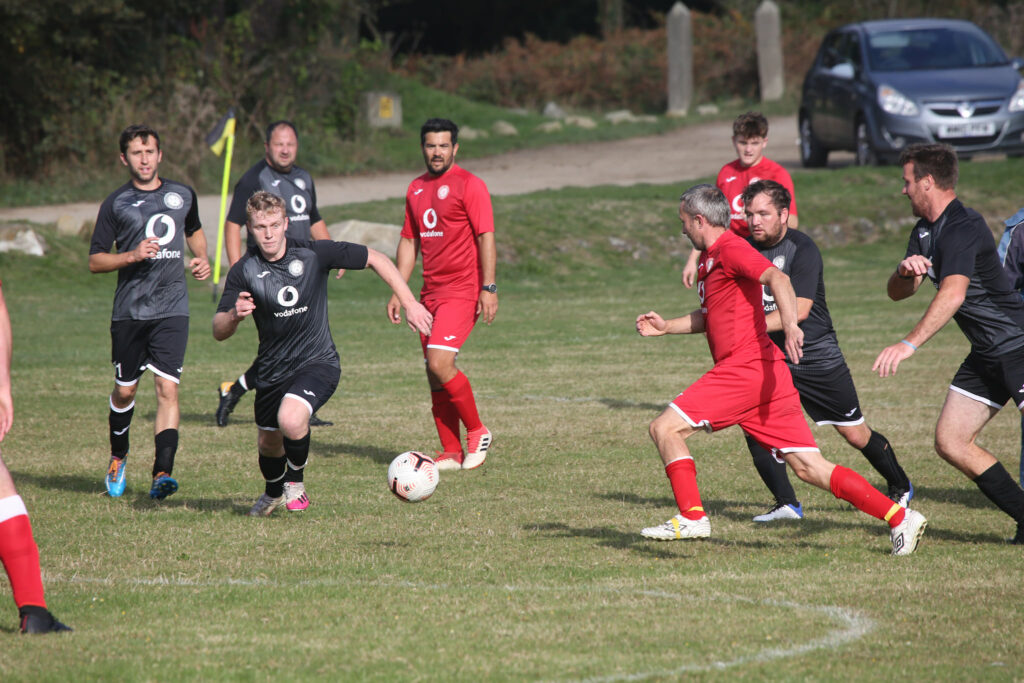 "It's unique. We only have two teams," says Will Lethbridge, a centre-back for the Garrison Gunners who works for a marketing company in the islands' tourism industry. "The other team is the Woolpack Wanderers. We play 17 league fixtures, one two-legged cup tie with no away goals because we play on the same field. That's the Gally Cup. We have a one-legged cup competition — the Scillonian Club Cup — and a charity shield at the beginning of the year.
"You're playing against the same people week in, week out. We change the teams every year to freshen it up. Not a big attendance on the one pitch — the Garrison field. But we all love to play, and in general we've had a pretty good turnout this year."
"There are limited career opportunities outside of tourism.", admits Lethbridge. "It's quite an expensive place to live. We do have a lot of younger adults pre-university and then an older group. It's very much the epitome of Sunday league, but most people are in pretty good shape. This year we are looking at anywhere from [ages] 16 to 45? Or 50 — he might be 50!
"We've had a really good crop of youngsters come through this year. It does vary, because of injury, people being away. At the beginning of this season, we had 11-a-side each week with three subs. People take annual leave during the winter months, but the squad size is usually between 15 and 20 per team. That allows for people being away. A lot of people play six or seven days a week during the summer, and then take their holiday in winter and go to see family on the mainland."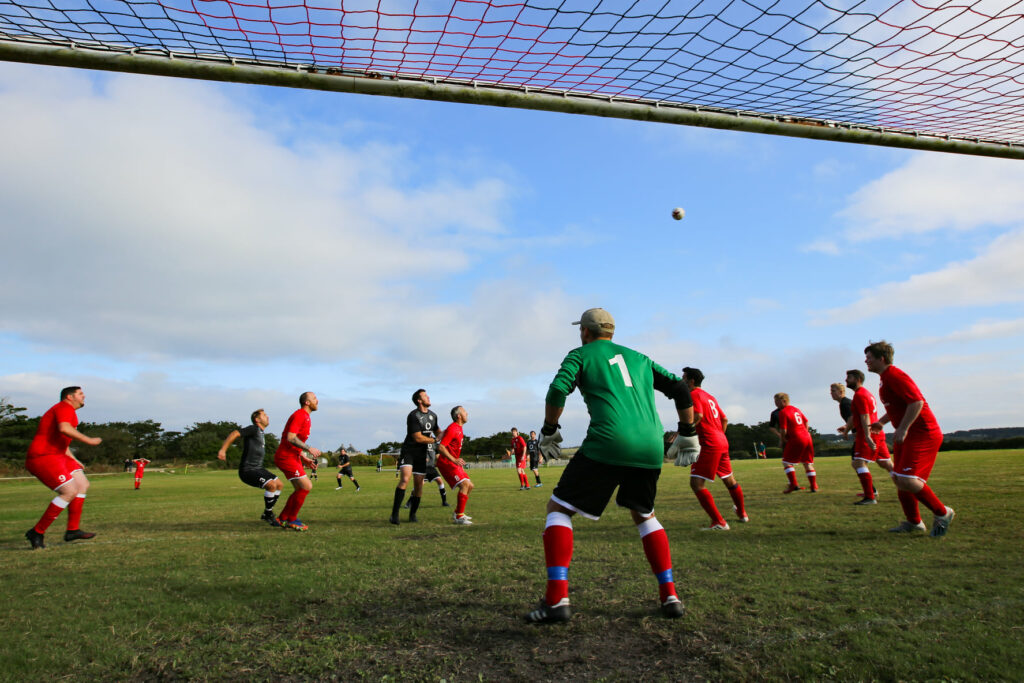 Lethbridge feels the pandemic showed people the value of sport, although the Scillonian population are statistically the fittest group from any region in the UK anyway. Nevertheless, interest is as high now as it's been for a long time. "Given Covid, a lot more people have started to get involved and realised how important it is. It's competitive — people do take it seriously."
Matches against mainland sides are decidedly less regular than the endless flurry of fixtures between the Garrison Gunners and the Woolpack Wanderers. And yet they do happen every so often.
"We had a visiting team come over in April from Cornwall. We play a team every year called the Mal De Mers. They're a sporting organisation who have been coming over since the 1930s. They come over each year and take on the locals at everything from golf to pool to football. We play them twice in September. We're a little bit younger than them, shall we say?"
Interest in the Isles of Scilly Football League shot exponentially off the charts in 2008. It's persisted ever since.
"It all stemmed from an Adidas 'Dream Big' commercial which was filmed over here. That was featured in cinemas all over the world. We had some of the big players of the day — Patrick Vieira, Daniele De Rossi, David Beckham, Michael Ballack, Steven Gerrard. Anderson was here. Andriy Voronin. They did the commercials in Andorra and San Marino as well. We had quite a high number of star-studded players come over. That kicked it off.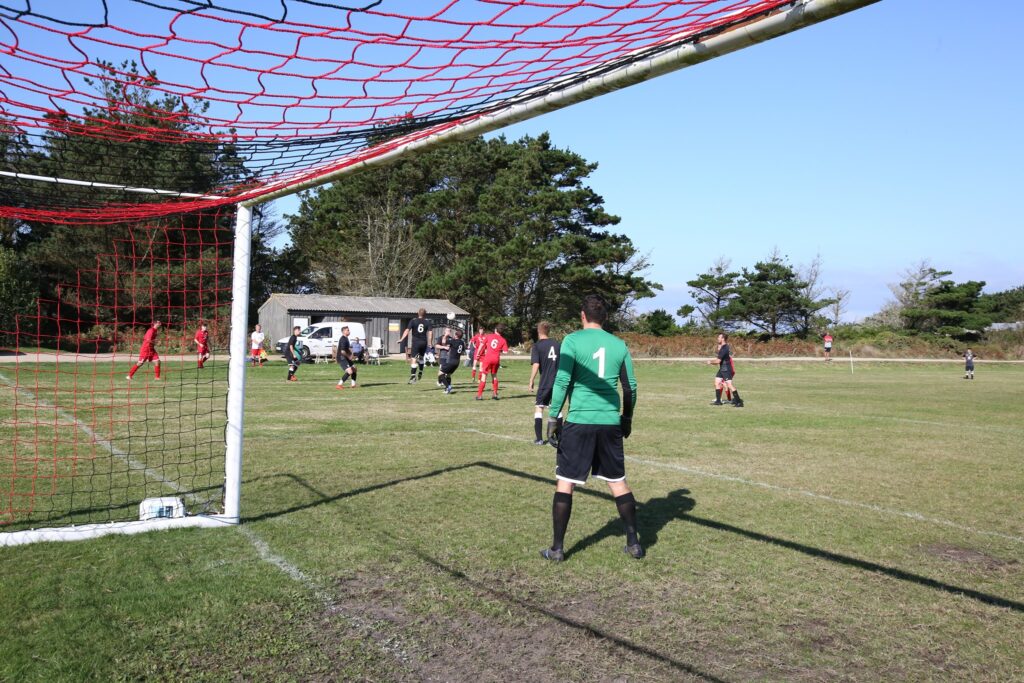 "Since then, we've had everything from Sky Sports, talkSPORT, The New York Times, BBC. We've also had a lot of international coverage. We've been on national television during the Rome derby in Italy, during a Bayern Munich Champions League game, an online piece from a company in Brazil. We had Vodafone do a campaign here where they introduced fan-assisted refereeing to one of our games. And we're featured in the FIFA museum because every four years we play a team from Penzance for the chance to win the world's smallest trophy. It's 2mm."
For Lethbridge and all footballers on the island, there is a certain buzz about how well-known their amateur football league has become, despite being hidden away on a field by a shed up a hill on a group of unassuming islands most famous for gig racing.
"It's all gone a bit mad in the last 15 years. We have people from all over the world asking for a replica shirt.
"We've had all kinds of weird and wonderful, far-fetched interest. It's just the novelty. But football is such a big global sport. This really is the game at its most basic, humble roots. That's why it captures people's imagination."
Check out World's Smallest Football League on Facebook.