Earlier this August we were lucky enough to be at a lavish awards ceremony before the FA Community Shield at Wembley Stadium's Grand Hall, where the great and good of grassroots football volunteers were rewarded, recognised and celebrated for their tireless efforts in dedicating countless hours to providing inclusive opportunities and inspiring the grassroots community.
In their twelfth year, there were twelve different winners, with the awards taking on special significance this year as they also celebrated those who have done exceptional things during the pandemic to support their clubs and communities. It was truly very moving to hear so many positive stories and see so many positive people, all doing such incredible work in grassroots football, and all in one room.
The recipients spent the half-time break on the hallowed Wembley turf in front of the crowd at the Home of Football, receiving their awards from former England internationals including Faye White, Joleon Lescott, Casey Stoney, Martin Keown, Rachel Yankey, Darius Vassell, Jack Rutter and Sir Geoff Hurst.
The troubles of the pandemic have hit young people in some of the hardest ways, with many suffering with mental health and isolation over lockdown. Cameron established a podcast for the Herefordshire FA Youth Council to help young people suffering with poor mental health and loneliness. It allowed young people from across the country to talk about topics such as mental health, disability, discrimination and sexuality, as well as football, and helped so many feel connected during a difficult time.
CAMERON WOOD, RISING STAR OF THE YEAR AWARD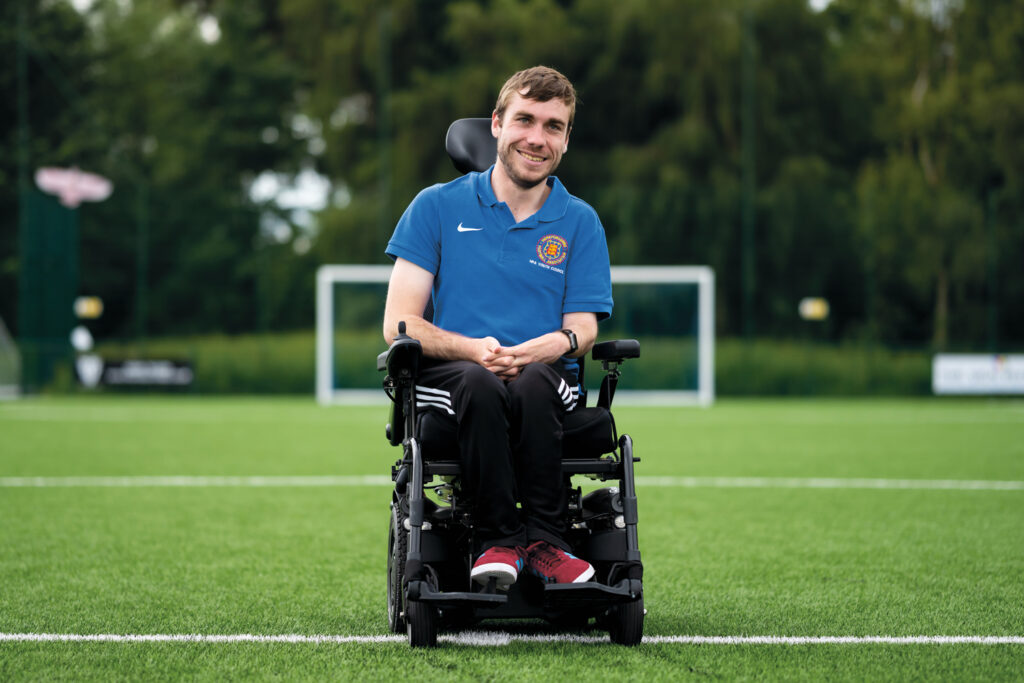 Cameron has never let having cerebral palsy define him or be an obstacle to his tremendous ambition and dedication to helping disabled footballers play the game they love. Cameron strives to give a voice not only to those with disabilities but to all young people within Herefordshire and the football community.
If all of that impact was not enough, Cameron is also the Chair of the Herefordshire FA Youth Council, which involves him engaging with schools and junior teams to get their views on local football provision. All of this hard work makes Cameron an outstanding rising star.
CARA WALL, SPIRIT OF GRASSROOTS FOOTBALL AWARD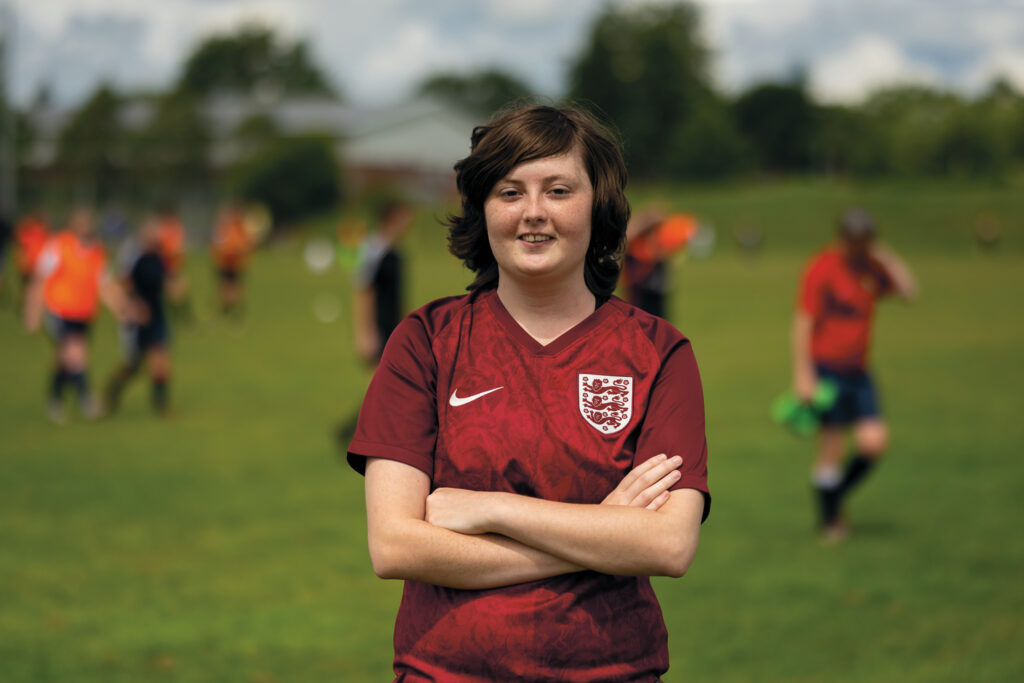 Cara is an inspiration and embodiment of football's spirit of determination and perseverance. She has played as a striker in various Shrewsbury Junior girls' and women's sides for over ten years. At the age of eighteen, Cara was diagnosed with cancer, but continued to train and play even while going through the hardest parts of chemotherapy. When she lost her hair, she did not take her football boots off and sought out special permission to wear a hat whilst playing. Cara has never let any challenges that life has thrown at her get in her way, and she continues to play to this day.
Her team have been an enormous source of support for her and have been with her since her diagnosis. And when things were looking at their worst, they raised money together so Cara would be able to complete her bucket list, which included meeting her personal hero Steven Gerrard.
Cara's story is one of resilience, determination and shows the power football has to bring out the best in us.
CHARLIE O'BRIEN, VOLUNTEER OF THE YEAR AWARD
Charlie is only seventeen but has already had a monumental impact on Avro FC. The youngster manages everything from pitch bookings to digitalising all his team's records and banking systems. He regularly invests significant amounts of his own personal time at the club to personally oversee everything. Charlie has been instrumental in securing the official Kick it Out Equality charter, making Avro the first club in the area to be awarded the prestigious charter.
Charlie is an outstanding young man and goes about his work in a quiet, unassuming way, always giving 100% dedication to any project he sets his eyes on. His work has made him a role model not just for those involved with youth football, but for all young people across the country. His high standards and commitment make him an outstanding example of what young people can do for their community.
DR SARAH GRIFFITHS, BOBBY MOORE AWARD
Sarah was nominated for the Bobby Moore Award for the fantastic impact she has had upon the Summertown Stars Warriors Cerebral Palsy team, and the difference she has made to the entire Summertown community. Sarah began her work with the Warriors when she saw the limited availability for children with cerebral palsy to get into football. Sarah gained sponsorship to set up the entire team, covering everything from coaches to refreshments. Her continued work and dedication to the Warriors has allowed the team and children with CP to thrive by learning new skills, teamwork and making friends.
On top of these commitments, she also works full time as a doctor for the NHS. Her dedication and positive can-do attitude is one that has inspired the whole of the Warriors and has allowed the team to flourish into a thriving inclusive team.
GRAHAM ROSE, GROUNDS TEAM OF THE YEAR AWARD
Graham Rose has dedicated the last twenty years to Redcar Town FC. His remarkable story started as a parent bringing his children to the Saturday football sessions put on by the club, and he has been involved ever since. As well as attaining his coaching badges and coaching the Under 18s squad, he also took up the role of groundsman. Graham is always ensuring the pitch is up to the highest standard and is out working in all weathers, rain or shine, with a smile on his face. When he's not looking after the pitch, he is the club's first team photographer, social media officer and also produces the match day programme.
During the pandemic Graham went above and beyond to maintain the club's grounds. Not only did he lay standing ground around the main pitch, but he also built a covered terrace area and a free-standing score board, as well as carrying out an extensive pitch maintenance programme. Graham is integral to Redcar Town FC and the community is truly indebted to him and his hard work.
KRISTIAN SILCOCK, MATCH OFFICIAL OF THE YEAR AWARD
When the pandemic struck, Kris quickly realised the impact Covid-19 would have on his fellow match officials in the Liverpool area – especially the impact social isolation would have on mental health. As a result, he organised support and training groups so referees would always have someone to talk to during a really difficult period. Kris set himself a goal during lockdown: to help others in his community to create positive change throughout the time spent at home. With his support, the officials' group became autonomous in their approach to keeping fit and being open about their mental health.
Kristian guided his match official community through the hardest times and his actions have created a long-lasting positive change, making him a deserving recipient of the Grassroots Match Official of the Year award.
MARY PHILLIP, GRASSROOTS COACH OF THE YEAR FOR ADULT TEAMS AWARD
Mary has been an active member of Peckham Town FC since 2000 and has been instrumental to the growth and provision of football for both boys and girls at the club. She ran the inter-estate football leagues around Peckham for thirteen years and was key in delivering free football sessions to over 20,000 children. Mary was able to achieve this astonishing accomplishment while raising her children and playing at the very top of women's football. Mary is now the manager of Peckham Town FC's first team and is the first woman to win a men's senior trophy in the UK.
Mary has also made a huge impact throughout her playing career; she was the first black captain of the England Women's team and the first woman to have a child and return to play for England – achieving all of this whilst still giving her all for Peckham FC. She is an inspiration to all in the game.
NORTHUMBERLAND FOOTBALL LEAGUE, GRASSROOTS LEAGUE OF THE YEAR AWARD
The Northumberland Football League supports over 16,000 players across all ages, with its women's and girls' sections growing to nine teams recently. The team behind the league always listen to their members and adapt. They have been instrumental in creating a Covid strategy that allows its members to get back to the game they love, while keeping the parents safe.
The volunteers are selfless; they go the extra mile for every team in the league with hours of unpaid support. The league also supports its referees with in-house mentoring and onsite support, as well as operating a social fund which supports players and families in their greatest time of need.
The impact of this league on its wider community has been a standout example of the power football has in bringing us together. The league committee's work in keeping their 138 divisions playing with a minimal loss of games throughout the pandemic is an upstanding example of their achievements.
OMONIA YOUTH FC, GRASSROOTS CLUB OF THE YEAR AWARD
Omonia Youth FC has led the way in supporting mental wellbeing for their players. The club has been a ray of light in a dark and difficult year and has risen to every challenge thrown at them throughout the pandemic. They constantly adapt by offering online coaching sessions, virtual quizzes and Zoom get togethers, as well as providing their community with entertainment and much-needed connection. The club supported many people who felt lonely and isolated throughout lockdown, and although they couldn't physically be together, the spirit of the football club was kept very much alive.
Omonia has also been a leader in increasing diversity within the grassroots game, priding itself on its "football for all" ethos. It is a testament to that ethos that they have gone from having no girls' teams to four, as well as creating disability training sessions. The club has helped all of its thirty-two teams and 450 children in overcoming any challenge they might face.
WENDY BENSON, GRASSROOTS COACH OF THE YEAR FOR YOUTH TEAMS AWARD
Wendy is a remarkable coach who always manages to go the extra mile. Her hard work and dedication to providing footballing opportunities for disabled children is inspiring. Since Wendy joined the Braunton FC Ability Junior team in 2019, the side has seen an increase in participation from two to seventeen players. Her impact on making each session accessible to anyone of any ability cannot be understated. Wendy often consults with the parents and researches each child's disability. She then modifies her sessions to ensure each child gets the most enjoyment out of them.
Most importantly of all, Wendy sets the bar for commitment. Even during the pandemic when she was forced to shield, she still ensured that the spirit of Braunton FC lived on by putting on extra football sessions outside of each lockdown and was described as a consistent source of positivity. Her drive, coaching aptitude, warm personality and steely determination makes Wendy a deserving winner of the Coach of the Year award.
WESTEND JUNIOR FOOTBALL CLUB, GRASSROOTS PROJECT OF THE YEAR
The children of Westend Junior Football Club can be described as true altruists. During the hardest points of the pandemic, the club and its members have been a helping hand to those hardest hit. Over the course of the lockdown, twenty-five local volunteers dedicated their time to support the most vulnerable in the Huddersfield community. The young volunteers selflessly collected donations for food banks, helped vulnerable elderly people self-isolating and supported a Covid-19 Christmas mission, donating clothing for the homeless and delivering "Pamper Packages" for hardworking NHS staff. They are an inspiration to their community and Huddersfield's very best.
As a club, they have managed to raise over £100,000, deliver 3,000 food items to local food banks and donated over 2,500 items of clothing to the homeless, refugees and asylum seekers. The actions taken by this community are fully deserving of the Grassroots Project of the Year award.
ASHFORD MCDONALD'S, FOOTBALL RESTAURANT OF THE YEAR
Ashford McDonald's is a shining example of the impact a franchisee can have upon their local community through football. Franchisee Paul Crocker's Ashford High Street restaurant has supported Bromley Green FC since 2016, with everything from kit donations to trophies and Christmas parties.
Bromley Green is a community-oriented club that engages with children from the age of four years upwards, including those with disabilities, and has added extra teams to meet the growing interest in football for girls. In partnership with Paul's restaurants, Bromley Green provided their players with meal vouchers over the pandemic, ensuring no child had to study at home during lockdown without school dinners. The two organisations have also combined to create a new clubhouse which doubles as a homework club and safe space for Bromley's young players.