Mark Rose is a true advocate and embodiment of the power of grassroots football. He shares with Sam Kershaw his inspirational story of returning to his beloved weekly five-a-side game after battling cancer.
By Sam Kershaw. Images by Scott Kershaw.
Salford born and bred, Mark Rose was born into a family with Manchester United blood in its veins. His dad was a red. His grandad was a red. And low and behold (he didn't have much choice in the matter), he was a red. He ponders his first memory of his Dad taking him to Old Trafford at the age of four. "I remember being sat pitchside in the stadium with my feet dangling over the railings. The scale of the ground and the players felt so exciting and overwhelming at the same time. From that moment, football kind of bled into me."
Various flirtations between the sticks followed in his youth, including an "unholy mess of plastic Scousers and Mancunians" known as Sankey Rangers in Warrington, where he moved aged fourteen. A brief spell playing open-age football and ad hoc games whilst working in retail followed and upon moving to London he played in pick-up games on Wimbledon Common and began to experience playing outfield for the first time.
However, Mark's real passion for the grassroots game was lit up by a five-a-side game he helped set up whilst working in a call centre aged thirty-six. "That game became so important to me. That precious time on a Sunday was mine and nobody else's. I lived for it and how it made me feel. The anticipation of it, the camaraderie it created, the release that it brought and how I would analyse how I'd played for days afterwards." The game that Mark is referring to is still running now, fifteen years down the road, and it would become crucial in an extremely challenging time in his life. 
In December 2017, Mark was diagnosed with head and neck cancer. "The doctors were saying things like 'don't expect to be the person you were' and 'to be able to do the things you were doing prior to treatment', which caused me a horrendous amount of anxiety." Mark played what could have been his last game in November 2017.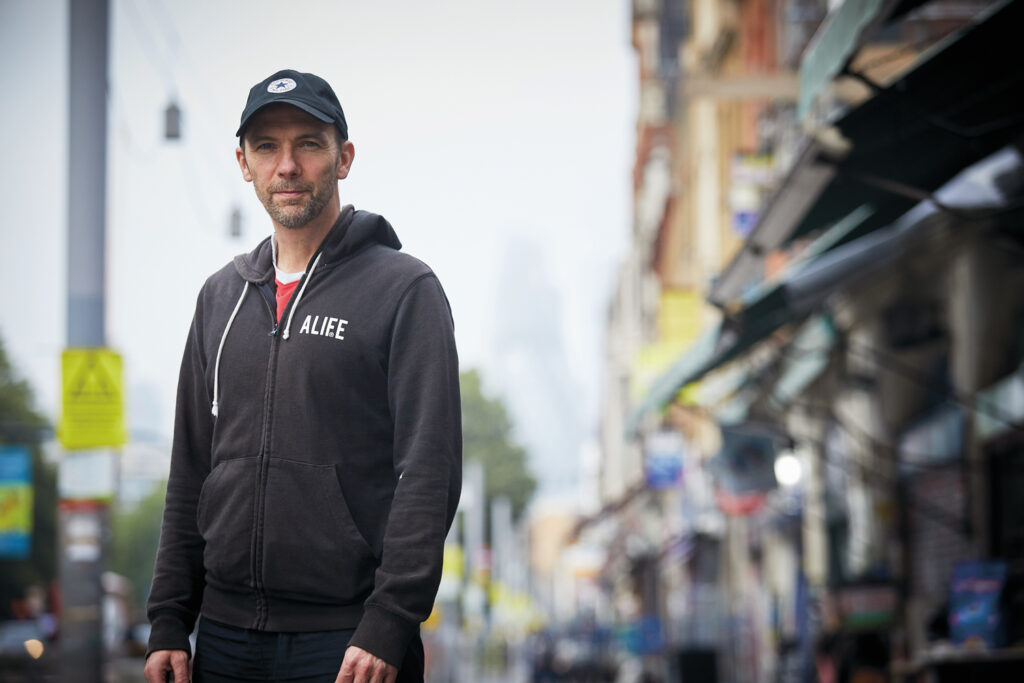 He began treatment in February 2018, which included intensive chemotherapy every day for six straight weeks. "It really took its toll on my body. I lost loads of weight and couldn't eat and had a serious amount of muscle wastage." Despite what he was going through, he always had that weekly game on his mind and even remained in the WhatsApp group, keeping an eye on how the lads were getting on. "Although it felt unrealistic, the thought of being able to play in that game again was massive to me. It drove me."
Mark finished his treatment in February 2018 and was given the all-clear in August 2018, with a pipe dream of playing football again still firmly etched in his mind. His northern grit kicked in. "I was a model patient; everything they told me to do, I did and then some."
But in late August, he tried to go for a run and broke down in the street. It was too much, too soon. "I went home and told myself that I had to accept the process and be patient. A little bit at a time." From there on in, Mark began to build himself up, piece by piece.
In March 2019, he was finally able to reply to the weekly group message with five simple words: "I'm in this week lads".
His teammates rallied and embraced him on arrival. "They knew I couldn't produce saliva, so they brought me packs of chewing gum and kept stopping the game for water breaks. I tried to not make a big thing about being back but deep down we all knew that it meant everything to me. But you know what lads are like – one of them took the piss and said I looked like Peter Crouch because I was so thin. That's the stuff I really missed.
"The feeling of getting through that ninety minutes was beautiful. I had to go in nets a bit more often, but I'd made it back." That game was a catalyst and Mark grew in strength both mentally and physically. "After my sixth game back, I came home and felt incredible. I wish I could bottle that feeling and sell it. I lay on my bed in a complete state of euphoria. If I had gone for a run or I'd been to the gym, I'm certain I wouldn't have felt like that. It's only football that can give you that feeling and those who know about it will know what I'm talking about. As I lay there, I thought to myself, 'I'm back, I'm fit and I've beaten that shit'."
They say that mutability is our tragedy but it's also our hope. Mark Rose epitomises those very words. Grassroots football isn't just about football, it's about everything that encompasses it – spirit, determination, resilience and community. And Mark Rose has those characteristics in abundance, both on and off the field. Not content with his passion on the pitch, he is also producing and directing a film with his company Blueprint Theatre and Film. A heartfelt look at the vibrant world of five-a-side football at grassroots level, championing inspirational people with inspirational stories to tell.